Having twins attracts a lot of attention. I am asked frequently about our stroller, diaper bags, pacis, or how we got our babies to sleep so well. I wanted to start a place for all of those moms, dads, grandparents, and friends to go to find awesome twin gear, as well as, just cool baby stuff.. So, here it is! I will continue to add fun new items as we find them! Click on the Photos or Links for more
details and price.
MARC JACOBS Baby Bag
This is our current diaper bag and I have been more than pleased with it! It has plenty of pockets on the outside and inside the bag to accommodate all the extra gear associated with Multiples!
It has a fairly hefty price tag, but I plan on carrying it quite a while. My Timi and Leslie Bag (see below) was used for over 3 years, so I hope I get as much use out of this bag as I did that one.
As far a durability, it looks like it will withstand much more than the T&L bag.
I have had to wash it when a sippy cup leaked and it was very easy to clean and dries quickly.
This our diaper bag! It started out as my husbands "diaper bag" and became the only one we use. I had one-shoulder diaper bag, but when I carried both infant carriers, the bag would slide down and hit the carseat, or worse, the baby. This bag has every compartment you can think of and is large enough to pack all the gear you need for twins or more. It is still small enough that it is easily carried and not heavy or cumbersome.
Timi & Leslie "Dawn" Convertible Diaper Bag
Ok, if you aren't sold on the backpack and want a
fabulous
Mommy bag, this is it! This is the diaper bag that I "had to have" and I really still love it. It was big enough to carry enough things for both boys and so adorable! The only reason that I did not use it on a daily basis is because the backpack allows me to have my arms and hands free to hold little one's hands or carry them on my hip. Its by far the cutest diaper bag, ever! I've just had to learn that sometimes being stylish isn't always practical.
*Update: Boys are big enough now that I'm back to carrying this bag! 2 1/2 years in and I'm still loving it!
Kolcraft Contours Optima Tandem Stroller
This is one of our Strollers and we love it! The seats are easy to reconfigure so the boys can face each other, with backs to each other, both forward facing or both parent facing! It comes with a newborn carrier attachment and will fit most infant
carriers.
*click to see a list as well as purchase additional infant carrier
attachment
for twins!
Stroller comes with adult cup-holders as well as cup-holder for children that are easy to remove and clean.
This stroller also won The Bump, Best of Baby 2012!
Sophie The Giraffe-Teether
This is fantastic teething toy. Sophie handmade in France. Made of natural products and safe for baby to chew on to help relief soreness associated with teething.
**This photo is from Sophie the Giraffe, USA website. Click on Sophie to be linked to their page :)
The Boppy Newborn Lounger
Perfect for newborns. Elevates head and provides a comfy place to rest while awake.
The Original Boppy Pillow
I'm not sure what we would have done with out our Boppy Pillows. This was invaluable during feedings as well as helps provide excellent support during tummy time! Makes a great baby gift!
Sassy Formula Dispenser
This formula dispenser is great because it has 4 separate single-serving compartments. (Some dispensers only have 3 servings) Having a dispenser with 4 compartments allows parents of twins to have 2 feedings per outing, if needed.
*Sassy has a
Multiples Program
Wubbanubs
BEST Pacifiers!
Make sure to have a "back up" pair!
aden+anais
aden+anais swaddle blankets are AMAZING!
Here are my preemie twins swaddled in one blanket :)
On Becoming Baby Wise
By far our favorite Baby Book. Helped with good eating, napping, and bedtime habits!
A MUST Read!
Baby K'tan
Below is the youtube video to show the Twin Position for the K'tan carrier.
Babies R Us SoftTouch Fan
Battery operated. Light weight. Easily clips on car seat or stroller. We use these on their Fisher Price Rock and Play (see below) at the pool.
Fisher Price Rock and Play
Of all of the swings, bouncy seats, and rockers we own, this is MY FAVORITE!
Its very light weight and portable.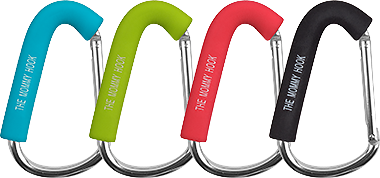 The Mommy Hook
Hooks easily on stroller or shopping cart to carry diaper bag and shopping bags.
Colic Calm
"The FIRST Homeopathic Gripe Water"
From Colic Calm's Website::Completely free of sugar, simethicone, sodium bicarbonate (baking soda), herbal oils and extracts, wheat, gluten, soy, dairy, and animal products